spire018 – Grass Rewound: Aaron Martin Reinterpreted by Part Timer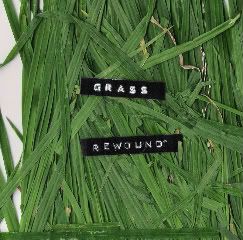 Grass Rewound: Aaron Martin Reinterpreted by Part Timer - [spire018]
Part Timer remixes original tracks composed by Aaron Martin, resulting in six folksy rewirings of the cellist/producer's material. Something that strikes you very early on is just how seamless a collaboration this appears to be - it sounds like it could have been a new set of works by Martin, produced by Part Timer's John McCaffrey with his customary workshop clatter, and potting shed electroacoustics colouring the compositions.

At the more subtle end of this you get the likes of 'Terrace (Grand View)' and 'Climbing Into Water (Drowned)', whose lilting, crackly cello tones swell with an almost vintage sounding warmth, while on 'Shot Tower (Hot Lead)' you hear more rhythm-oriented construction holding the piece together, resulting in the kind of patchwork electronica Part Timer spins when left to his own devices. This isn't the duo's first collaboration, and they clearly work well together; at no point during this six-track mini album would you really think of it as a 'remix' record, such is the very organic assemblage of the record and the homely compositional style at the heart of everything.
3″ CD-R SOLD OUT
Download now available.